Before this whole wedding planning thing started, I was pretty low maintenance. I hardly wore make up, had two pairs of jeans that I alternated between and wore the same tennis shoes pretty much every day I wasn't working. Since then?! Yeah- I've turned into a girl. Big time. The biggest change?! I am now in love with shoes!
During my outfit planning (for the shower, the rehearsal and of course the big day!), I scoured the internet for hours looking for the perfect shoes. I wanted my feet to look cute, sexy and playful- what better way to accomplish that then by getting fabulous shoes?! Some of my favorites?! Oh well just scroll down and take a gander...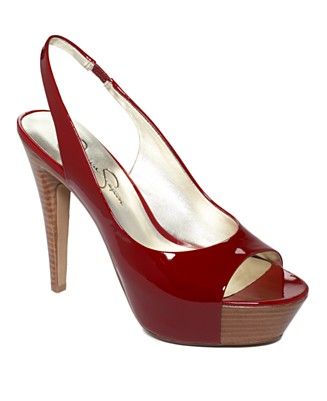 Ahh.. shoes! I bought two out of the three I showed you- the Elga's I've written about before. And the Jessica Simpson Astor's?! Oh- perfection. My feet look tiny, they are comfortable and sexy as hell! I am telling you- I am a changed woman. I recently went into the city with my mom and was so excited to help her pick out shoes for the wedding. Of course, I was picking beautiful platform, peep toe heels- not exactly what she was looking for- but even my mom was looking at me with a funny look. After the wedding I hope to expand my shoe collection. It's official- this wedding is making me into a girly girl.
Any other ladies out there with a shoe obsession?