Celebrity weddings.. How beautiful, romantic and trend setting can you get? They are gorgeous affairs. Renting out 400 year old Italian castles? No sweat. Flying in David Tutera to plan a Phantom of the Opera meets Peter Pan themed bash? Done. Paying for 200 of your closest friends to fly in from all over the world to watch you get married? Easy.

Hollywood weddings are absolutely over the top and incredibly beautiful. The stars can pay for the best in the industry and they make sure their every wish is granted and every desire fulfilled. And why not? It's not as if they are on any kind of budget like us real brides. So here is a few of my favorite celebrity weddings and what I would take from them for my wedding.

Fergie and Josh Duhamel

(appeared originally in US Weekly Magazine, January 2009)

I mean first of all- look at them. They are so ridiculously cute. I am not a huge fan of Fergie, but she looks like such a bride here I can't help myself. And while they had a very large, hollywood enamored wedding, it was still a mystical, enchanting evening. The romantic choice in color (whites, purples and blacks) with little bits of their personality thrown in (the castle cake? I mean come on!) speaks to me whenever I look at the pictures from their wedding. Their estimated cost? One million dollars! And what, you ask, might I steal from their wedding? Fergie's dress. I love my dress, I really do. But that long train that expands for miles? Priceless.
Roselyn Sanchez & Eric Winter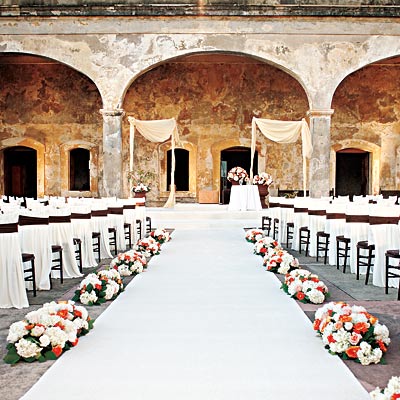 courtesy of instylemagazine.com
I am not even going to show you a picture of the bride because she is just too gorgeous and puts us real brides to shame. As a history major I fell in love with this photo; it's rustic, historic with a flair of dramatic that only old world architecture can do. Her location?? Oh just an old fort in San Juan, Puerto Rico. Guest list? A measely 250 people. And if you haven't guessed it- I would steal her venue. Yup. I could totally be married in Puerto Rico, no?
Carmen Electra and Dave Navarro
source: http://www.celebritybrideguide.com/photos/electra-navarro-278x400.jpg
I realize that they are no longer together (but in Hollywood, how surprising is that?), but the one thing that stood out to me- and I think anyone else who watched their series on Mtv- is how unafraid they were to make their wedding about them. I sometimes feel like celebrities cake on glitz and glam because they can. But with Carmen and Dave's wedding it had a certain feel- a warmth that a lot of Hollywood weddings are missing. And Eden theme? Pulling in parts of a kubrick film? All really interesting, fearless and beautiful moments. So what would I steal from their wedding? It wouldn't be any one thing- I want their fearlessness. I think so many brides get caught up in what would look okay, and who would say what that we forget to have fun and bring our personality into the wedding.
How about the brides out there? What celebrity weddings inspired you?