source
While helping my mom get ideas for her dress for the wedding this weekend, I popped into a bakery. It is technically Mr. Yankee's "task" to find and book our cake vendor, but I figured since I was already standing in front of a perfectly good bakery there would be no harm in checking it out to see what was up. Not to mention baked goods are kinda my weakness. Like- bake 6 dozen cookies in a weekend weakness. So my mom and I poked our heads in and were instantly intoxicated by the sweet smells of sugar, flour and eggs and found ourselves standing in front of the wedding cake area. I browsed at the semi decent display and asked about their consultation process. The cashier was very nice and friendly as she handed me the brochure and told me to ask her if I had any questions. I spent a good amount of time oogling at the different flavors and letting dreams of wedding cake dance around in my head.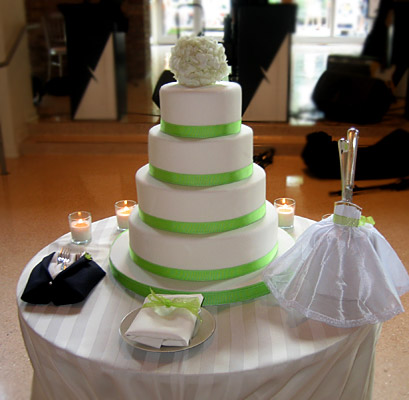 source
Once my mom and I sat down (with our freshly baked chocolate chip cookies) we decided to finally take a gander at this little piece of paper filled with all the goodness of wedding cake information. It all sounded so tasty and over the top (perfect for sweets!): white sponge cake filled with french pastry cream and the season's freshest fruit, finished in butter cream. Or layers of fudge cake and white sponge cake with praline mousse and roasted hazelnut- yummy! And my personal favorite: white sponge cake layered with dark french vanilla chocolate mousse with fresh raspberries. Ooooh la la- heaven! Just as I was about to buy some samples (because there was no way I was going to wait for a consultation!) I got to the prices.... and my heart skipped a beat. SAY WHAAAA?!?!?!?
I sat down early on in the wedding planning stages and gave myself a rough estimate of what I was willing to spend in certain areas of wedding planning. Having been to a few weddings and being witness to how much cake gets wasted, I gave myself what I thought was a modest, but reasonably budget of $3 a person. HA! Not in Northern California! Try doubling that! I little surprised and unsure of myself, I decided to do a little more research. And believe it or not- $6 a slice is the going rate for cake! For eggs, vanilla extract, flour and sugar!!! What is going on in this world!?! I had a brief moment of insanity thinking I would just bake it myself, but alas sanity has prevailed and have taken me back to the drawing board.
What are some of your back ups to the wedding cake?